Baby2Sleep is on a mission to change the pregnancy to parenting journey for you and future generations
Be Empowered, Be Confident, Be Prepared Baby2Sleep is there to hold your hand and support you on your journey from pregnancy through to your child turning 6 years old
Baby2Sleep will tell you what the antenatal classes don't tell you.
You can start your journey feeling confident and more prepared, knowing what support you may need, and where to get it.
We are in your corner to support you and your child with positive sleep habits from birth to 6 years old.
Book Your Free Call to Discuss Support Options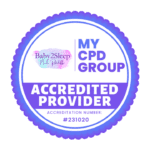 Please note that some of the images may differ while I am moving all courses to the MY CPD Group Platform.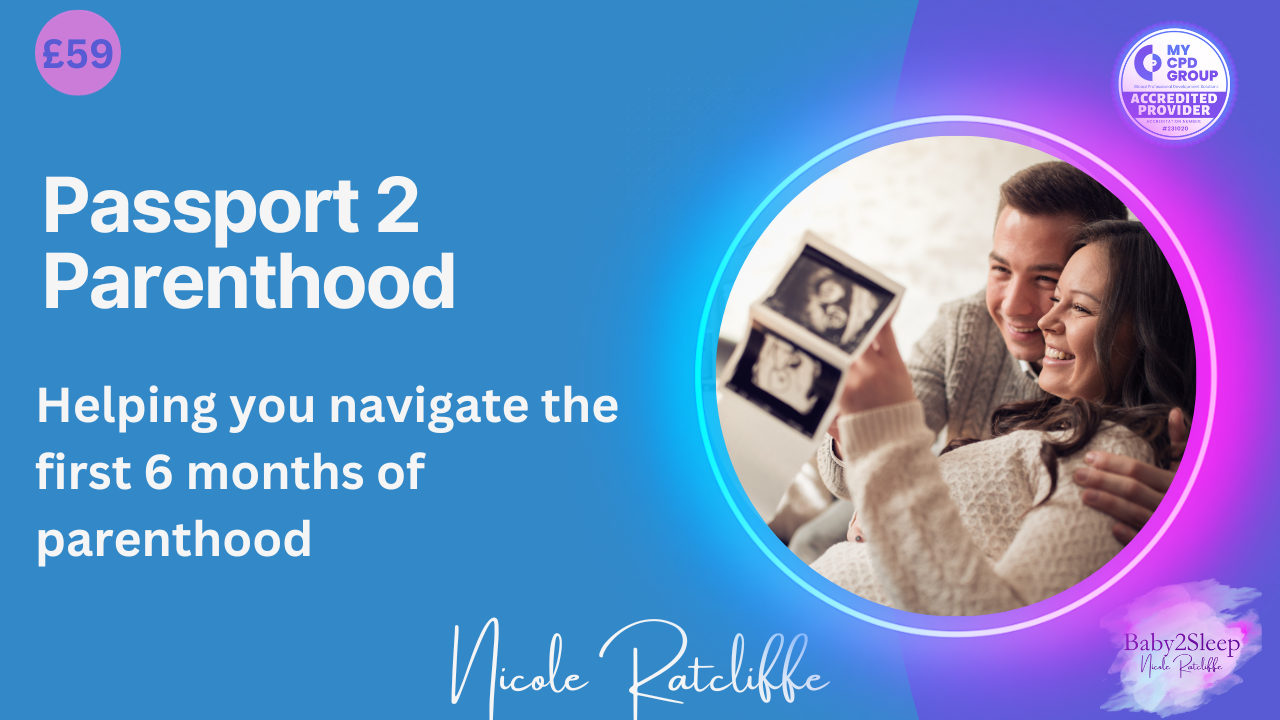 Helping you navigate the first 6 months of parenthood. Be Empowered, Be Confident, Be Prepared.
Click here to start your accredited CPD course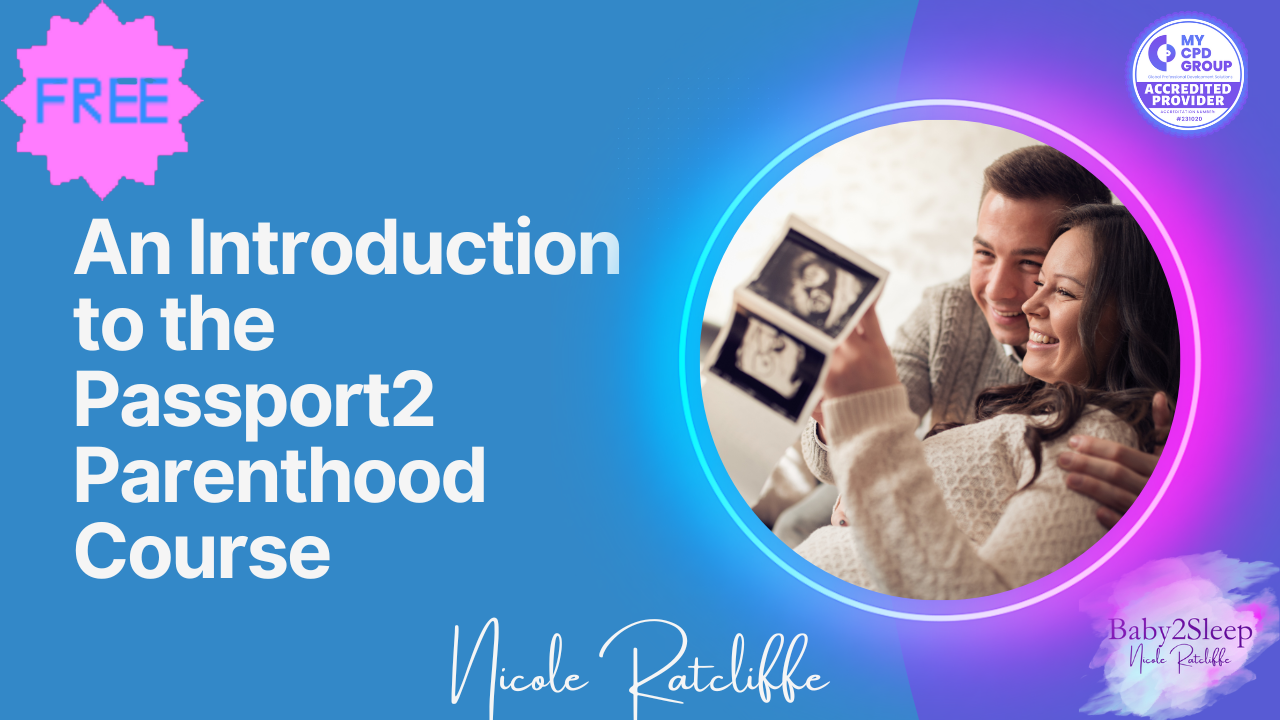 Take the FREE mini course here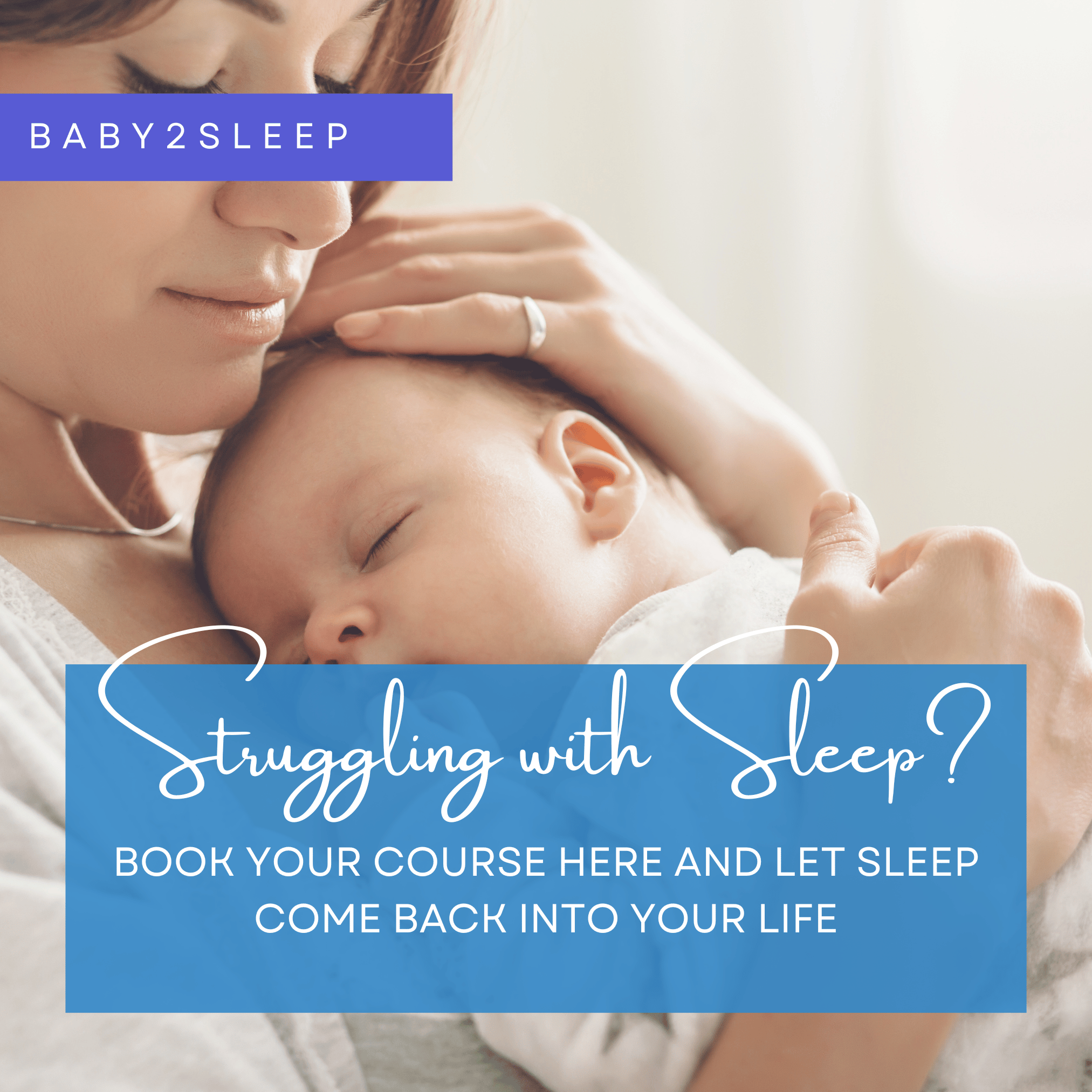 Helping babies between 6 and 20 months old to sleep well. £59 one off payment, or £19.67 a month for 3 months
Click Here To Find Out More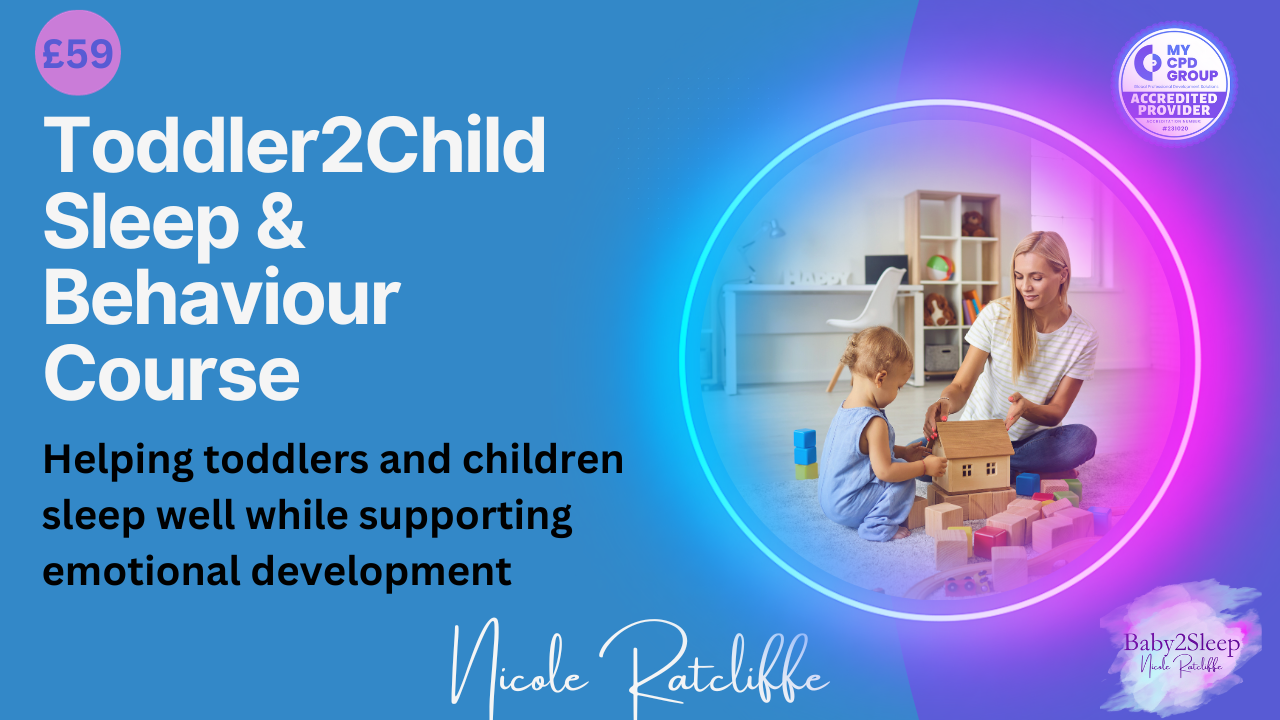 Helping toddlers and children sleep well while supporting emotional development.
Click here to start your accredited CPD course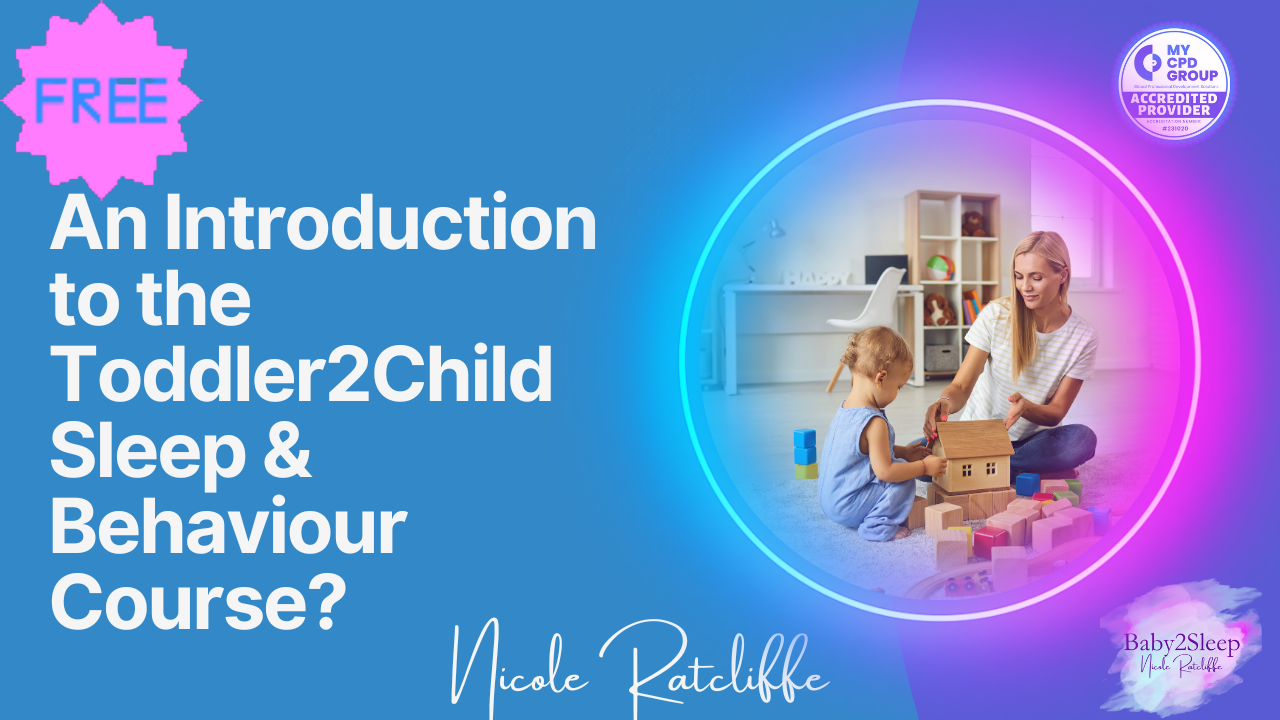 Take the FREE mini course here
Baby2Sleep has been supporting families improve their little ones sleep since 2017 as a baby and child sleep consultant.
In 2022 Baby2Sleep launched Passport2Parenthood to help expectant parents begin their journey on the right path. Educating parents-to-be on the vital details the antenatal courses don't teach. The reality of having a baby. Sleep deprivation can be triggering, so supporting parents with infant sleep can help lower maternal mental health struggles.
I'm Nicole, a mum of two and an experienced holistic sleep coach based in Manchester. I am a birth trauma survivor, twice breastfeeding mum, and suffered with long term severe sleep deprivation. I'm passionate about helping families to have a positive start and sleep is such a huge part of that.
I know from first-hand experience the impact that a lack of sleep can have on relationships, physical and mental health, mood and energy levels. That's why I've designed a range of courses and support packages to suit parents at all stages, from expectant parents wanting to give themselves and their baby the best possible start, to parents of babies, toddlers and children up to 6 years of age, who need positive change in their sleeping patterns.
Knowledge is power and when parents feel refreshed, empowered and confident, they are so much more able to handle the everyday challenges that parenthood brings.
Are you ready to let me take you on a journey to a better nights sleep?
Testimonials
If your child is having sleep difficulties and you would like to know how I can help you, please get in touch for a free 15 minute chat.
The Newborn Guide has been such a useful tool since the arrival of my little one. I wish I had done it sooner. No one really prepares you for what is to come, I did antenatal classes but they didn't cover half of the important stuff. These videos filled gaps I didn't realise I had until baby came along and I was left questioning myself and wondering if I was doing it right.
The videos are informative, concise and can be accessed on the go (mostly when in the bath or breastfeeding in my case). The information is conveyed in a kind, friendly and reassuring way and easy to dip and out of. I have particularly watched the sleep videos multiple times this week, they have been invaluable, helped develop my confidence and I now have a much deeper understanding of my babies needs and how to meet them. I'm now much better rested and calmer as a result.
I felt fairly well prepared and could never have imagined the self-doubt and worry that would creep in with birth of my baby. The realisation of the enormity of the responsibility that came with my little bundle left me overwhelmed and questioning everything. Since doing this course and watching the videos I have become more confident, calmer and I'm definitely better rested. I would definitely recommend this course to anyone who is pregnant or who has just had a baby and wants to develop their knowledge and understanding to feel prepared and equipped to deal with the wonderful but challenging journey ahead.
Amanda
Build Your Own Sleep Plan
I wish had known of Nicole and Baby2Sleep before our first was born. I suffered for years with poor sleep so when our second came along and his sleep started to deteriorate I knew I needed help. I was on my knees physically, emotionally, mentally, everythingally!!!
Nicole's videos are packed full of information that you can use to suit your own situation and are all in short wee bursts that you can watch in between the chaos of parenting. They won't tell you what to do but they'll equip you with knowledge to let you design a sleep training program that suits you and your little one that you can adapt as time goes on and their sleep needs and issues change. And if you have any questions, there's a supportive Facebook group to ask.
Within 5 days we went from feeding to sleep every time to being able to put him down in bed to fall asleep. It was life changing! I was able to support him to go to sleep without leaving him to cry but I was also able to let my husband or my parents do bedtimes. Not only was this less draining on me but it meant I could spend some more time with our daughter too.
I can't recommend Baby2Sleep enough so if you're needing help with your little one's sleep look no further!!
Jane
Behaviour and Sleep Support Guide
"The service, help and advice has been fantastic!! After 3 nights of following the advised bedtime routine, for my 2-year-old, he is asleep within 10 minutes. This has gradually gone down from 30 on the first night. It would normally take 2 hours'ish to get him to sleep, with dad and I led in bed next to him. I am now sitting in his room which is another massive achievement!! I have paid to be in the toddler group. This has over 3 hours of videos full of loads of advice from sleeping to tantrums. A massive thank you for all your help. I would recommend and will be purchasing again for the little one on the way xxx."
Charlotte Mayes
"Nicole has been amazing support to both of my children. My first child had reflux and refused to sleep in a cot, by 9 months I was exhausted as he was waking every 45 minutes and being fed back to sleep. It only took a few days of working with Nicole before he was gently taught to sleep on his in his own bed, he became a happier baby and I became a happier mum! And with my second child I implemented a lot of what I learned with my first, Nicole just helped me tweak and change a few things to help her sleep really well too. We have no early wakes, they go to sleep straight away and sleep 7-7. Pick up the phone and talk to Nicole, I can't recommend her enough xxx "
Emily Bradshaw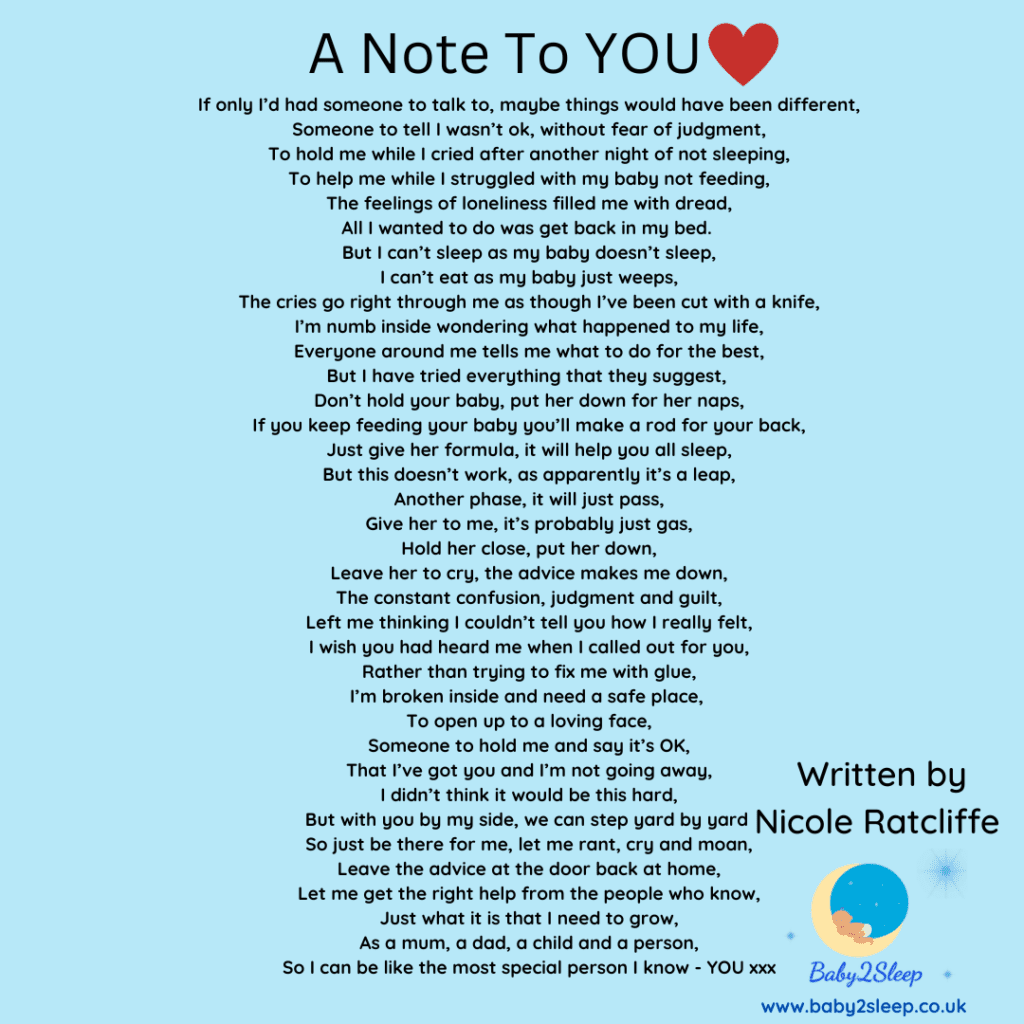 Over 60% of parents wish they had been more prepared for the impact having a baby would have on their life
A fifth of couples split up in the fist year after having a baby
1 in 5 new mums, and 1 in 10 new dads are diagnosed with depression related to having a baby
We need to keep the  lines of communication open with the people we care about, to allow them to open up if they are struggling.
Be there with an open ear and a brew, and leave the rest to us.
Baby2Sleep has your loved ones covered with online video courses to help them navigate the first 6 years of their child's life from pregnancy to 6 years old.
Improving the pregnancy to parenting journey
Supporting sleep for both baby and parents which can help improve mental health
Creating confident and emotionally well-rounded children by implementing positive behavioural strategies,  which also support sleep.
Baby2Sleep YouTube Channel